10 Watt Solar Panel for leisure batteries. Save on electricity bills and help protect the environment
10 March 2022 | Admin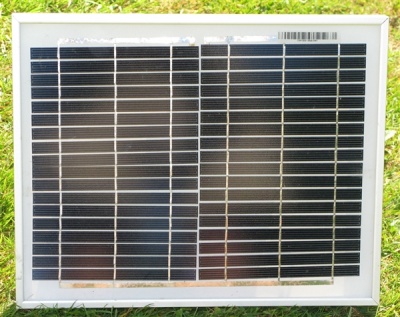 It has never been more important to do our best to reduce our impact on the environment...and reduce our ridiculous electricity bills. So add a 10 watt solar panel to your 12 volt battery! It is so easy to do...and saves you having to charge your battery every few weeks. Simply sit the panel on top of your battery, clip it on to the terminals and face it due South. The 10 watt solar panel only costs £36.99 and is great value for money.
We use our solar panel on our 12 battery that powers our energiser and electric poultry net. We love it. The solar panels last for years and are amazingly easy to use. I honestly don't know why everyone with a 12 volt leisure battery doesn't add a solar panel. It will save you money in the long run and makes life easier.
You can, of course, also consider getting an 'all-in-one' solar energiser. These are great for small to mid length fences and ideal for horses. Cost wise, they tend to work out at a similar price to purchasing a 12 volt battery, energiser and solar panel - so if you are starting from scratch and have an ok budget they are a brilliant option. There is a huge range of solar energisers. We carefully keep an eye on all options and at the moment Gallagher and Hotline have the best line-up and value for the 'all-in-one' solar energisers. If you register the Gallagher solar energisers online you even get an upgrade to a 7 year warranty. Hotline solar energisers come with a 5 year warranty. The energisers tend to last a good number of years, although you will eventually need to replace the internal rechargeable battery (a bit like you do with a mobile phone) - but don't worry because it is easy to do.
So, please, consider going solar. It's a win-win situation and you will be so happy once you have made the switch.