Water Pumps for your livestock - both solar and battery powered pumps
8 February 2019 | Beth
NEW water pump system for livestock
This system is very easy to use and can be used with your regular trough. This means that, unlike other pumps, you do not need to train your livestock to use a new system.
The pump can be powered by a 12 volt battery, or a solar panel (included in the solar kit) and can pump up to 35 litres of water per hour.
Based on the pump running for only 4 hours a day, 1 pump can provide enough water for either 54 horses, 540 sheep, between 77 and 54 cattle, and up to 2700 pigs!
Approximate daily requirements. Supply based on 4hr run time per day @ 2m of head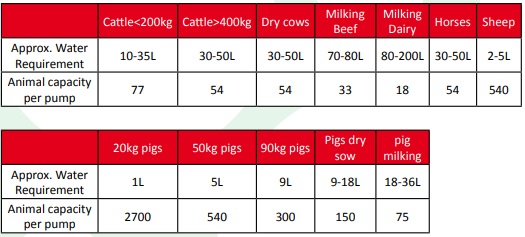 You don't need balancing tanks or header tanks. Just your regular trough and the pump kit. The pump is easy to install and full details and advice is at hand. The kit is made here in the UK and in Germany.
The water pump kits are simple 12 volt pumping systems based upon proven water-pumping technology which allows the transference of large volumes of water. The trough is fitted with a float switch which turns on the submersible pump as the water level drops. The pump is connected to 30m of hose which feeds back from the water source to your standard trough. The kit is powered by 12v battery which sits in a weatherproof control box. The solar kit option includes a robust 5' steel stand and a high efficiency 30w solar panel.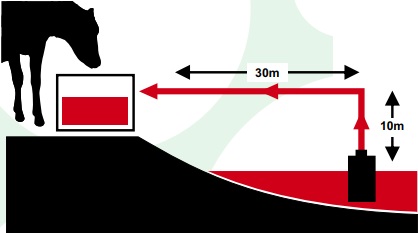 There are many benefits to fencing your waterways and using a solar pump to provide water for your livestock. Not only are there grants and financial incentives in certain situations, but protecting your freshwater can also prevent the spread of waterborne disease and protect the vegetation.
Here are some reasons to consider protecting your fresh water and using a water pump:
River bank vegetation is re-established, helping to reduce erosion.
Establishes a buffer strip between rivers and fields that intercepts soil run off.
Reduces soil run-off to help keep important nutrients on the land, often reducing the need and cost of using fertiliser.
Keeps livestock out of rivers which helps to reduce the spread of waterborne disease.
Ensures clean fishing waters by separating livestock from watercourses.
Failing to address soil erosion can affect single farm payments. Focus on water quality will increase under the new basic payment scheme.
Provision of water supplies for livestock fenced out of watercourses can attract grant funding from a number of bodies in specific catchment areas.
Useful Links
http://academy.fwi.co.uk/Courses/Arable/Water-Protection
http://www.legislation.gov.uk/uksi/2003/3242/introduction/made
The Kit Includes:
Weatherproof Polypropylene Control Housing

30W Mono-crystalline Solar Panel with 5m Lead

Powder Coated Heavy Duty Stand

Submersible Pump with 30m Cable

30m Re-inforced Hose

Float Switch
If you have any questions, please don't hesitate to call. We are a family run business and we are always happy to help.
FarmCare UK
01323 406212