Heiniger Horse Clippers
14 July 2017 | Beth
Heiniger horse clippers are made in Switzerland, with the usual Swiss precision engineering and advanced blade design. They are extremely reliable and give a very professional clip. They usually come with a 2 year warranty. They are the most expensive brand of clipper and the only real comparison is Lister Shearing clippers.
The most popular Heiniger clippers are:
Heiniger Xplorer Horse Clipper: From £358.99
This 'next generation' cordless clipper provides 120 minutes of continuous clipping. The battery is actually in the handpiece (not attached via a cable, like most other cordless clippers) and recharges in 90 minutes. The handpiece is slightly longer, due to the battery being inside it, which can make clipping smaller ponies a little awkward. Otherwise, this is an excellent powerful clipper, ideal for people with between 1 and 5 horses to clip. It can handle all types of hair.
Lithium Ion high performance battery
Up to 120 minutes of clipping and only takes 90 minutes to charge
Lightweight, weighs only 990 grams with battery.
Slim easy to hold and use
Quiet running
No power cord freedom to clip where ever you need to
Charge level indicator built in to the charging unit so you can see the status of the batteries charge.
The handle is nice and slim and the main grip point at 15.2 cm (where the thumb and first finger sit). Main part of the handle is 17 cm around. The clipper is quite long at 29 cm, not including blades.

The Xplorer is very quiet in keeping with all Heiniger clippers. Because it is a battery powered model it does not have the need for any ventilation which is great because it stops all the hair and dirt getting inside.

Comes with:
Heiniger Xplorer clipper, Oil, Screw driver, instructions PLUS: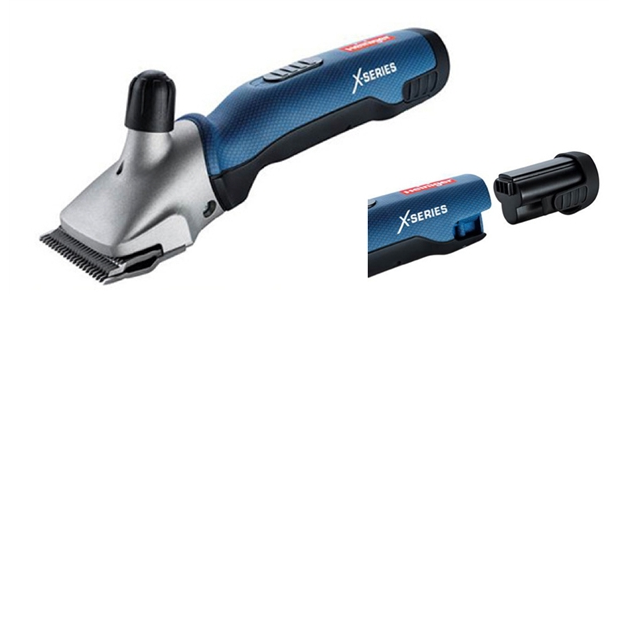 Heiniger Xperience Horse Clipper: From £285.99
This clipper is slim and light and easy to hold. It has a 200 watt permanent magnet motor which means it is very powerful and able to handle nearly all jobs. This is the slimmest and quietest of all the Heavy Duty clippers and is, in fact, no louder than the medium duty clippers like the Progress. The only slight downside to this clipper is the price and the length (at 29cm it is slightly longer than most clippers).
200 Watt permanent magnet motor - powerful enough for most jobs

Slimline lightweight body - easy to hold

Solid and durable due to fibreglass reinforced body

Quiet running - less stress on the animal

More torque on the blades than any other comparable machine

Worldwide unique connection between the body and the head
The handle is nice and slim and the main grip point at 15.2 cm (where the thumb and first finger sit).
Main part of the handle is 17cm around. The clipper is 29cm long not including blades.
The air is blown over the blades to aid cooling and help to minimise hair being blown about.
Comes with:
Heiniger Experiance clipper, Oil, Screw driver, instructions PLUS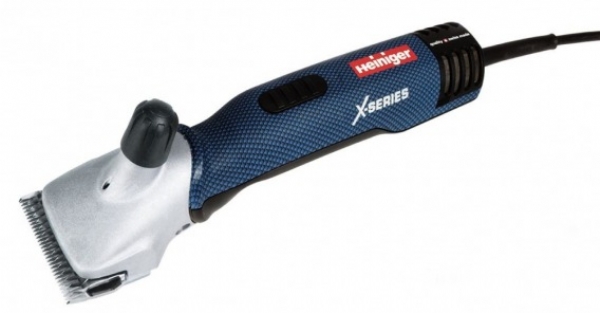 Heiniger Handy: From £265.99
This clipper has been around for years. It is old technology that just works and never breaks. Customers who have one love it. Heiniger keep threatening to take this off the market (perhaps because they get no repeat custom as it last for so long?!). There is nothing fancy about this clipper. It is one of the larger clippers, but it is light for a heavy duty clipper and also surprisingly quiet for such a powerful clipper. It has a 240 volt powerful 120 watt motor and weighs only 1250 grams. It is the toughest clipper on the market and will get any job done.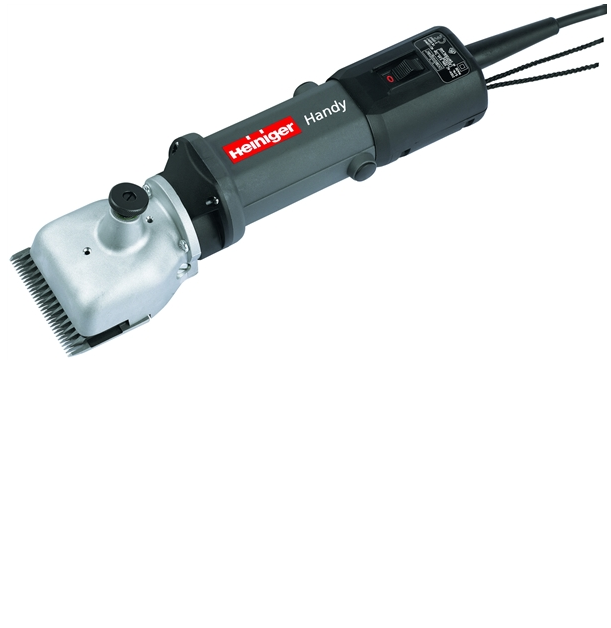 Heiniger Progress From £224.99
The Heiniger Progress is a medium duty clipper, with an 80 watt permanent magnet motor, comparable to the Lister Star. It is lightweight, has plenty of power for most jobs yet has low noise and vibrations. In 2015 Heiniger released the updated Progress horse clipper, to address a couple of niggles they had expereinced with the old motors. With the new electronic board and motor protection technology the Progress is still one of the most modern clippers available today. The design of this clipper is very much with the operator in mind in that many (most) people that clip are female and do not necessarily have large hands. The Progress is ultra light weight, weighing just under 1 kg, and very compact in its design. It has a slim grip (16.5 cm around) and the head is set at 13 degrees to the handle which gives the operator a more comfortable clipping position. The handle has a rubber grip coating, and the power switch does not interfere with your hand position.

The oversized tension control gives ease of use and accurate tensioning.

Because of its high power, low weight and slim grip this clipper is idea for ladies that have 2 to 3 horses to clip on a regular basis.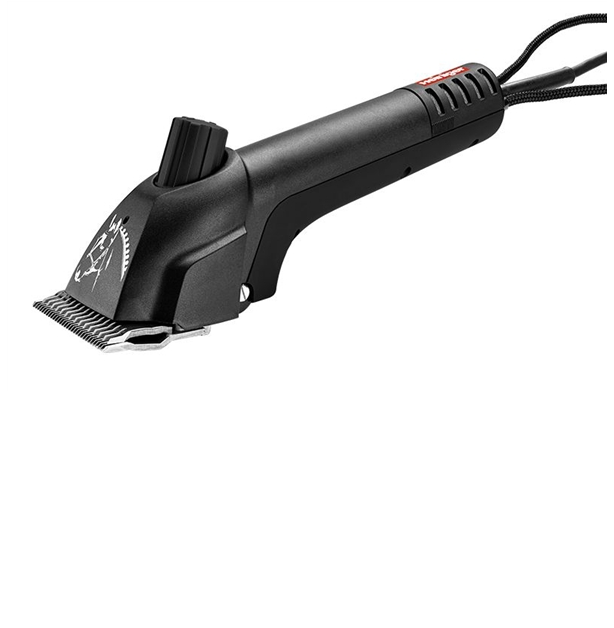 Heiniger Progress Style: From £239.00
This is essentially the same clipper as the Progress - but with a more jazzy look!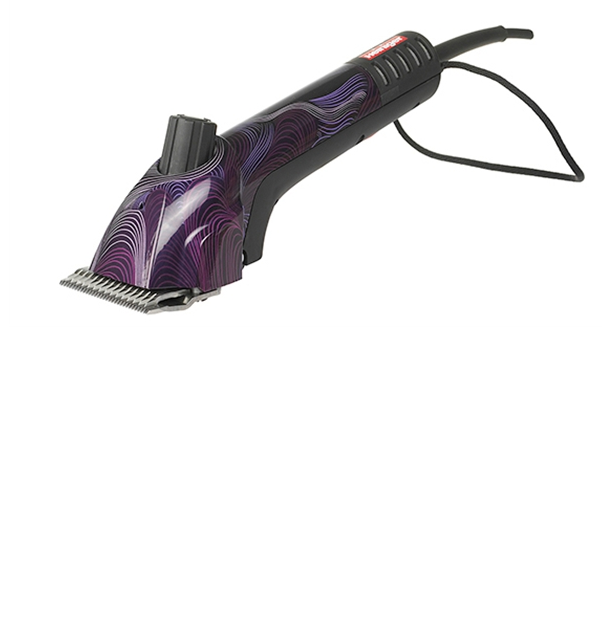 Heiniger Saphir: From £192.99
This is a light weight clipper/trimmer with a 35 watt permanent magnet motor. It is not a full clipper like the Progress, but with time and effort you could clip a whole horse with little hair. It is really targeted to the showing, veterinary and dog grooming market. It takes the A-5 style snap on blades. It is available either as a corder or cordless clipper. The cordless clipper comes with 2 batteries that clip for 45-60 mins and recharge in about 30-40 mins. It is the most powerful clipper/Trimmer of its type, and can be compared to the Lister Libretto or the Liveryman Harmony Plus.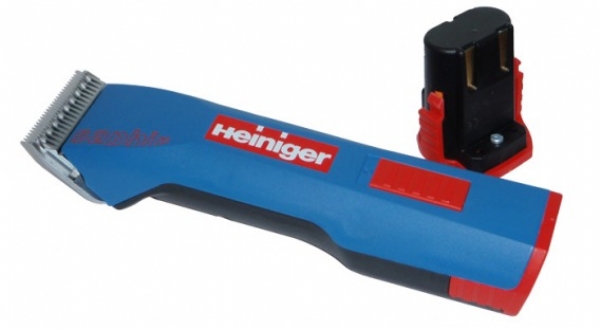 ¥ High quality, precision Swiss engineering.
¥ Lightweight and perfectly balanced in the hand.
¥ Quiet and powerful 35W permanent magnet motor.
¥ High performance battery with the latest lithium ionic technology.
¥ More than 50 minutes clipping per charge but less than 45 minutes charging time.
¥ Supplied with a spare battery for continuous clipping.
¥ Solid, durable charger unit with a separate charger bay for the spare battery pack.
¥ Detachable blade system. Compatible with most A5¨ type blades.
¥ Wide range of Heiniger blades available.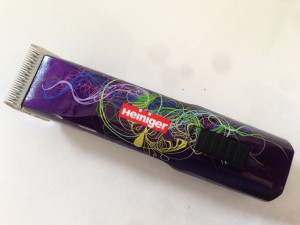 We love the Heiniger clippers. Blades are typically around the £32 pound mark and are durable and of excellent quality. You do not get the range of blades available with Lister, but you get a choice of a fine, medium or coarse blade. Many of the clippers can also be used for cattle, and the head can also be changed to shear sheep. If we were to buy a clipper it would be either a Heiniger or a Lister!
If you have any questions about horse clippers, please don't hesitate to give us a call. We are a family run business and we are always happy to help.
01323 406212