Lister Liberty and Libretto Clipper Deal
13 September 2017 | Beth
Get the Lister Liberty Horse Clipper and Lister Libretto Max Trimmer for only £269.99!
This is a limited time offer!
It also includes a FREE bag upgrade to the Lister Hold-All (no more plastic boxes!).
These mains clippers will allow you to give the perfect clip with professional result. The Lister Liberty mains clipper is powerful enough to handle any hair. It is comfortable to hold, light, has low vibrations, is quiet to use....and should you need to go cordless in the future, you can add a battery! The clipper is a sealed unit, which stops dirt and hair easily getting into the clipper and reduces wear and tear and costly extra servicing. This clipper does not blow out air through any vents - which is useful if you have horses who dislike the sensation of blowing air (a common problem around the legs of some horses).
The Lister Liberty comes with an A2F blade as standard, although we are happy to switch the blade should you wish to have a different blade. The Liberty takes all the standard Lister blades, including the popular Covercote blade which is unique to Lister and leaves 5mm of hair (ideal for those who wish to show their horses). The Medium Blade is a good option for beginners as it more forgiving and leaves less lines. The Coarse blade is good for cobs and cattle (although the finish will never be as good as as the other blades). There is even a Blade, the Wizard, that can be used to shear sheep!
The Libretto Max trimmer is Lister's most powerful trimmer. It comes with a No 10 Competition Blade. It is powerful enough to do a quick clip on a horse with short hair, and of course more than capable of handling any trimming job. It is small, quiet and great for getting into any sensitive areas. It is also popular for grooming dogs.
The Lister Liberty and Libretto Max Mains Deluxe Combi really does give you everything you need for the perfect clip. Lister holds the Royal Warrant and is known for their excellent quality across the globe. All Lister clippers are made in the UK and come with a 1 year warranty.
If you have any questions, please don't hesitate to call. We are a family run business and we are always happy to help.
Included in the deal:
1 x Lister Liberty
1 x A2F blade (can switch blades)
1 x 60ml oil
1 x Lister Libretto
1 x No 10 Competiton Blade
1 x Mains Adapter
1 x Lister Hold-All
It is possible to add a battery at a later date should you wish to have a cordless clipper and trimmer.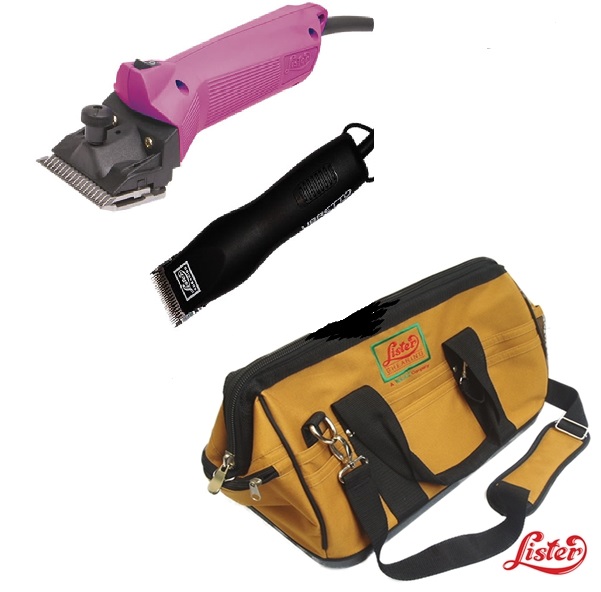 FarmCare UK
Clipper Specialist
01323 406212