Lister Star Horse Clipper - best value - we will price match.
26 September 2022 | Beth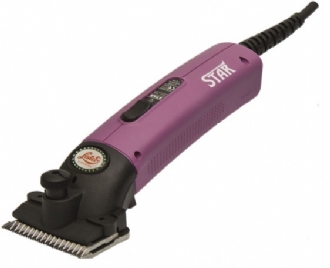 Lister Star Horse Clipper - In stock and the best deals!
The Lister Star horse clipper has long been the best selling horse clipper in the UK. This is because it is made by a top brand, with the Royal warrant, and is made here in the UK. It is light, quite quiet and easy to use, with low vibrations. This means it is a good option for nervous horses and for those who have smaller hands and are, perhaps, new to clipping. The Star is a mains horse clipper, with a lead of 5 metres. It takes the full range of Lister blades, including the unique and highly popular Covercote blade (clips hair to 5mm) which is only available with Lister. It comes with the A2F fine blade as standard, but at FarmCare we are happy to switch blades to the blade of your choice (who wants to spend a fortune on a blade they don't even want?).
We also always try to have the best deals. These do change from time to time, depending on stock. At the time of writing, you get a free second set of blades, free 250ml oil, a free Pico trimmer and an upgrade to the hold-all bag (rather than the annoying plastic box which never holds all your kit). This is an amazing deal. What's more, if you see a better deal somewhere else, let us know and we will try to match it and yu can still switch your blades. We also offer the Star in 2 colours - purple and a sage green.
The Lister Star is considered a 'starter' clipper. This means it is a full size clipper but is not as powerful as the Lister Fusion, Lister Legend or the Lister Eclipse. It is great for people with between 1 and 3 horses and for horses with 'normal' coats. If you are a yard or a professional, clipping a handful of horses everyday, you will want a more powerful clipper like the Fusion. The more powerful clippers tend to be louder, with more vibration - so it is always important to carefully consider both your needs and those of the horses you are clipping.
Similar clippers from other brands include the Heiniger Progress and the Black Beauty Mains. However, the Star tends to have much richer offers which is perhaps why it is the best selling clipper in the UK.
The Lister Star has a 2 year warranty.
If you have any questions or need some advice on selecting the best clipper - or if you have seen a better offer somewhere else, please email sales@farmcareuk.com We are a family run business and we are always happy to help.
Click HERE to see the latest Lister Star Offer or to order your Star now!
www.FarmCareUK.com
Clipper Specialists