NEW Foal birth alarms - 2021 - sleep and colic settings
9 February 2021 | Admin
New Foal Birth Alarms for 2021 - with sleep modes and colic modes added for extra peace of mind
2021 is here. We're enjoying our animals more than ever - and if you're lucky enough to have a foal on the way, then a little joy is around the corner. You don't want to miss the magic moment!
Foal Birth Alarms allow us to keep our mare and foal safe. We have a range of foal alarms, used by professionals and those who love their animals and just don't want to miss the birth of a new foal. They are non invasive alarms and do not need a vet to install them. They simply attach the the halt or girth of your mare and monitor her natural movement. When she has her first contraction, she will go on to her flanks and hold this position for 7.6 seconds. the contraction will last for no longer than 2.5 minutes. The birth alarm detects this movement and sends a message to you to let you know she is in labour. It's that simple, and it is highly reliable.
There are a number of options, that all use this same principle, but contact you in different ways.
By far the most popular option is the Foal Birth Alarm Lite. This is the most cost effective option, and sends a message to up to 2 phones. There MUST BE MOBILE SIGNAL where your mare is located for this option to work for you. The transmitter that is attached to your mare's head collar has a SIM card inserted. When the Birth Alarm detects a contraction, it will send an SMS mesage to your mobile or landline. The Foal Birth Alarm Lite 2.0 (new this year) now has a sleep mode. This means that if your mare is one of the 15% of pregnant mares who sleeps on their flanks, you can turn on the 'sleep mode'. The alarm will then monitor her movement slightly differently (so you do not get false alerts), but will still be able to tell you when she is having a contraction. We love the new sleep mode (it used to only be included on the Premium model). This alarm is available as a weekly rental, or to purchase outright (it can be used again and again). It costs £472.99 or £50/week to rent. https://www.farmcareuk.com/category-112.html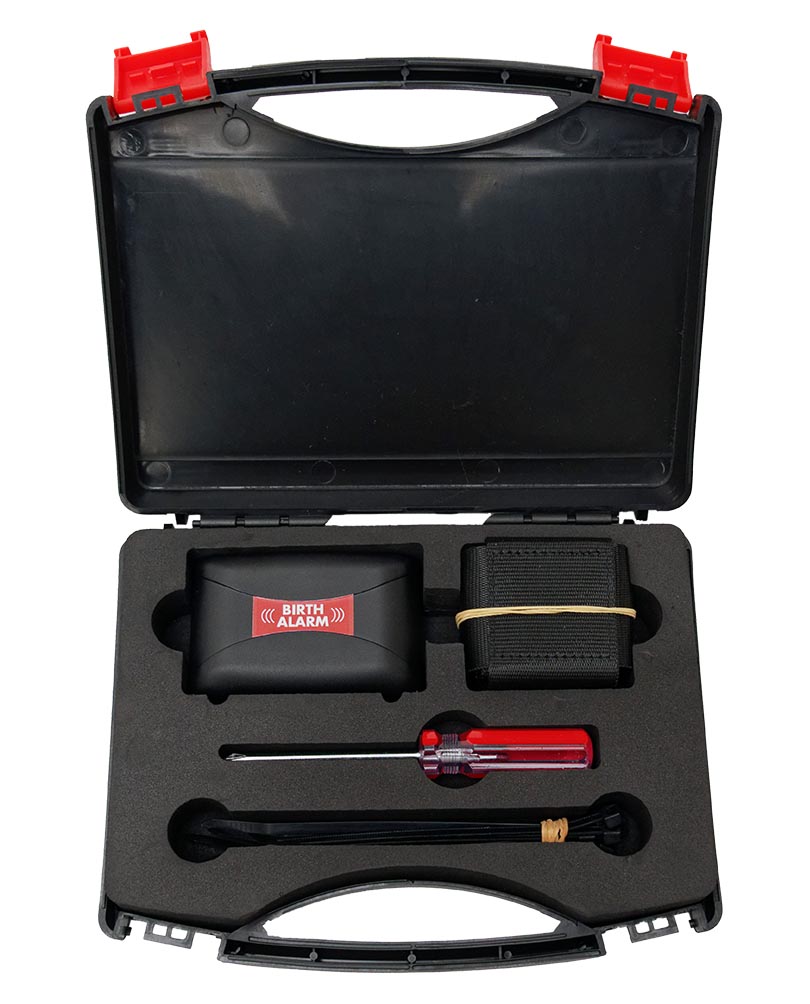 For anyone with a horse who gets colic, the Foal Birth Alarm Advanced is a great option. It has the usual birth alarm setting, but it also has a colic setting and sends you alerts if your horse is in trouble. It is more expensive at £859.99, but can give you peace of mind if you need to monitor your horse's health. You will also get alerts sent to you if there are any signal or battery related issues, so you can feel confident that you know what is going on. This alarm can monitor up to 4 horses (although you'll need to purchase additional parts for each horse).
There are other versions of the Foal Birth Alarm available too, for those who do not have mobile reception. These alarms use transmitters and tend to be more expensive. The full range can be seen here. https://www.farmcareuk.com/category-112.html
The basic birth alarm technology - sensing the movement made when a mare has a contraction - is not new and has been relied on for decades. It is non invasive and lets us keep our horses safe. Mobile technology is now letting this become even easier and accessible to everyone, not just professionals.
If you have any questions, please don't hesitate to contact us. sales@farmcareuk.com. We are a family run business and have helped people with their foal birth alarms for years.
Good luck with the birth of your foal!
FarmCare UK
www.FarmCareUK.com