NEW Lister Eclipse Cordless Horse and Cattle Clipper 2022
4 July 2022 | Admin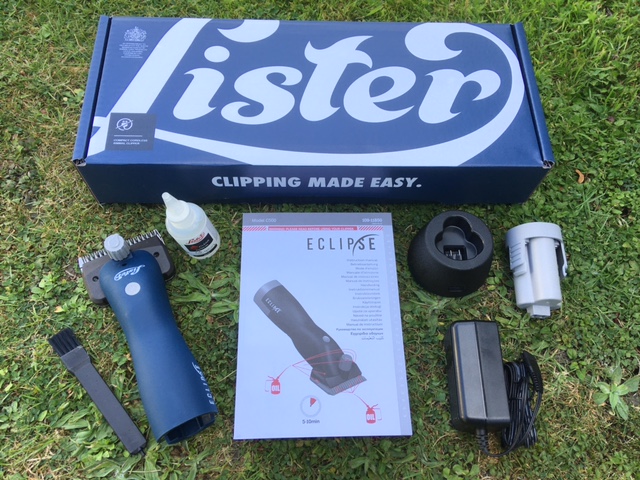 The NEW Lister Cordless Clipper - The Eclipse - is here!
The Lister Eclipse is a new cordless lithium ion rechargeable battery operated horse and cattle clipper. It is brand new and replaces the popular Lister Liberty. Lister Shearing clippers are made here in the UK and hold the Royal Warrant. The Eclipse has been thoroughly tested across the country and it's a huge hit with the pros. Here are all the key reasons why:
- The Eclipse has the battery in the handle, rather than on a belt around your waist (similar to the Heiniger Xplorer)
- The Eclipse uses a lithium ion battery that takes 130 minutes to charge and can clip for 130 minutes (it doesn't need to be fully charged to clip)
- The Lister Eclipse is light at only 845 grams. It's also ergonomically designed, so comfortable to use.
- The Lister Eclipse is powerful - with a brushless motor and 2500 rpm
- The Lister Eclipse is quiet and has low vibrations. This makes it a good option for nervous animals.
- The Lister Eclipse has easy tensioning. Just tighten it up and then turn back between 1.5 and 2.5 turns (you'll know if you have gone too far because it won't cut).
- The Lister Eclipse takes all of the popular standard Lister blades, including the unique Covercote blade that clips to 5mm and is only available with Lister. It comes with the A2F blade as standard, but at FarmCare, we're happy to switch blades if you'd like.
We've had a good look at the clipper and we think it's the next generation clipper and is a leader in cordless clippers. Rechargeable batteries have come on so much and this clipper just makes clipping your animal that much easier. It can handle any hair and it's light enough for almost anyone to manage. It is more expensive than the mains operated starter clipper, the Lister Star, but it's more powerful and easier to use.
One area that might cause some debate is Lister's decision to get rid of plastic cases in favour or locally sourced cardboard cartons. This is great for the environment and with luck people will have a clipping bag or old case they can re-use. If not, a Lister hold-all can be purchased, but at extra cost. However, for a short period and while stock lasts, FarmCare UK is offering a FREE Lister kit back, worth 24.99 with a purchase of the Eclipse. This will let you store your clipper, oil and blades easily and neatly.
If you are looking for a cordless horse clipper, the Lister Eclipse is definitely one to consider if you have the budget. It's bound to be a massive hit with professionals and anybody with enough money to get the best-in-class cordless clipper. The Lister Eclipse costs £390 (including VAT) and currently has FREE shipping and a FREE Lister Kit bag.
Order today and get a FREE Lister Kit Bag!
Or email us with any questions - we're a family run business and we're very happy to help! sales@farmcareuk.com
www.FarmCareUK.com
Friend of the Smallholder
sales@farmcareuk.com