New Lister Horse Clipper about to Eclipse all others. Stay tuned.
30 June 2022 | Admin
New Lister Cordless Horse Clipper Is HERE!
NEW Lister Eclipse Cordless Horse and Cattle Clipper
with FREE Lister Kit Bag and FREE Shipping!
Click HERE to Order and get your FREE Lister Kit Bag and FREE Shipping
This clipper is amazing! It is a powerful rechargeable cordless clipper, with the battery in the handle of the clipper. It can manage all types of horse hair and is a great option for people with up to 5 horses and for those with small hands. It's light, really comfortable to use and makes clipping much easier and faster.
This clipper replaces the popular Lister Liberty clipper and the updated battery means it is more ergonomically designed, has more power, is lighter and the batteries are cheaper to replace, should you ever need to. The clipper has a 130 minute run time and a 130 minute recharge time. There is a helpful indicator on the base of the battery - press the button and it will light up to let you know how much charge you have left.
This clipper takes the full range of the Lister clipper blades, including the unique Covercote blade that clips to 5mm and is wonderful for a natural look or for horses with sensitive skin.
Light - only 845g
Powerful - 2500 rpm
Quiet with low vibrations
Brushless motor
Lithium ion battery, with button on battery to show how much charge is left
214mm long, with a grip diameter of 42mm
Ergonomically designed
Takes full range of Lister clipper blades
Battery is in handle of clipper and reasonable to replace, should it ever be necessary
2 year warranty
Made in the UK
Lister holds the Royal Warrant
Clipper includes:
Eclipse clipper
Choice of blades (1 set)
1 small oil
1 cleaning brush
1 rechargeable battery
1 charger and stand
FREE Lister holdall bag, while supplies last
Please note: Lister is no longer providing plastic cases for their clippers. This is to reduce plastic use. The clipper comes in a well design, locally sourced, robust cardboard carton. Lister is committed to reducing their carbon footprint. We have thrown in the FREE Lister Kit Bag (worth £24.99) so you can keep all your kit protected and together!
We Say: We've been waiting for this clipper. It is now the most modern cordless clipper on the market and will be the clipper most people aspire to!
Click Here to order and get your FREE Lister Kit Bag and FREE shipping - while stock lasts! £333 plus VAT. We'll price match if you find it cheaper and in stock elsewhere.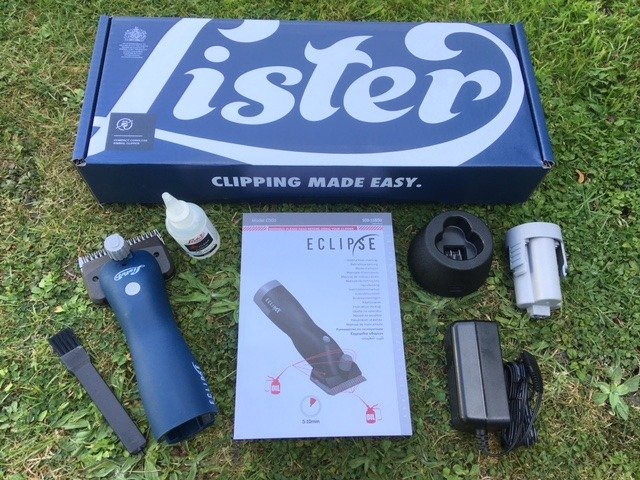 FREE Shipping!
www.FarmCareUK.com