New Solar Powered Electric Fence for strip grazing your horse
13 September 2021 | Admin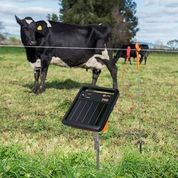 Solar powered electric fences are growing in popularity every year. Manufacturers are spending most of their attention developing this environmentally friendly option - which just happens to also be the most user friendly option. This is because the energisers are very reliable and very low maintenance.
The best options are the kits that include an 'all-in-one' electric fence energiser. These energisers have a rechargeable battery inside the unit, and a solar panel on top of the unit. The solar panel charges the battery and powers the fence. They are really easy to move around because you don't need to connect them to the mains, and nor do you need to worry about charging up the battery. Some examples of these all-in-one solar energisers include:
Gallagher S16 (with a free upgrade to a 7 year warranty if you register it online)
Hotline Firedrake: From £189.99 https://www.farmcareuk.com/hotline-firedrake-18-solar-electric-fence-energiser-make-life-easy-up-to-2km.html
Gallagher S12 (for smaller fences): https://www.farmcareuk.com/new-gallagher-s12-small-solar-electric-fence-energiser-ideal-for-pets-and-small-fences.html
If your budget won't stretch to these all-in-one units, you can look at units that have a solar panel to run the fence during the day, with back-up batteries that kick in when there isn't enough sunlight.
Hotline Shrike, with Solar Panel £105. https://www.farmcareuk.com/shrike-electric-fence-energiser.html 2 x D-Cell batteries will run this energiser when there is not enough sunlight for the solar option.
Horizont B12, with solar panel: £152.98 (plus your choice of 9 volt battery). https://www.farmcareuk.com/equistop-b1.html This energiser runs from a 9 volt battery when not being run by the solar panel.
Your other solar option is to have a 12 volt energiser, with a 12 volt rechargeable leisure battery and a solar panel that sits on top of your energiser. This solar panel costs £36.99 https://www.farmcareuk.com/12v-solar-panel-10w.html
By this point, you may be wondering which is the best option? It really depends on what you already have. If you are starting from scratch I would definitely go for the all-in-one option if budget would allow. The Gallagher or Firedrake range are brilliant. Once you do your sums, you realise that the all-in-one units are comparable if not cheaper that purchasing the separate components - the energiser, battery and solar panel. And the all-in-one units are much neater, easier to use and move around.
If you already have a 12 volt energiser and battery, just add a solar panel to your battery. They are only £36.99 and save all the lugging about of heavy batteries, plus you don't pay for the charging!
If your budget is very limited and you don't have any kit yet, I'd go for the Hotline Shrike with solar panel (you can even add the solar panel down the line, if you need to). The D-cell batteries will only be used when there isn't enough sun. And the D-cell batteries themselves with run the energiser for up to 8 weeks, depending on the strength of battery and the condition of your fence.
If you are looking for complete kits, here are some great value kits that include some of the above energisers:
Hotline Shrike Kit: https://www.farmcareuk.com/hotline-shrike-solar-kit-for-a-small-fence-ideal-for-strip-grazing.html £151.50 plus.
Gallagher S12 Kit https://www.farmcareuk.com/200-metre-gallagher-s12-solar-electric-fence-complete-kit.html From £210.99
Hotline Firedrake 34 Kit From £291.00 https://www.farmcareuk.com/as-35-solar-fencing-kit.html
Super Solar Starter Kit - with energiser and solar panel: £179.99 https://www.farmcareuk.com/super-solar-starter-kit.html
Poultry Net Solar Kit: From £209.99 https://www.farmcareuk.com/solar-powered-poultry-net-kit-for-20m-and-50m-enclosures.html
Or, to see all the solar kits, click here!
If you have any questions about selecting the right electric fence for your animals and budget, please don't hesitate to email sales@farmcareuk.com. We are a family run business with over 20 years experience and we are happy to help.
Electric Fence Specialist