The New Lister Fusion Mains Sheep Shear - ideal for small flocks
17 February 2021 | Admin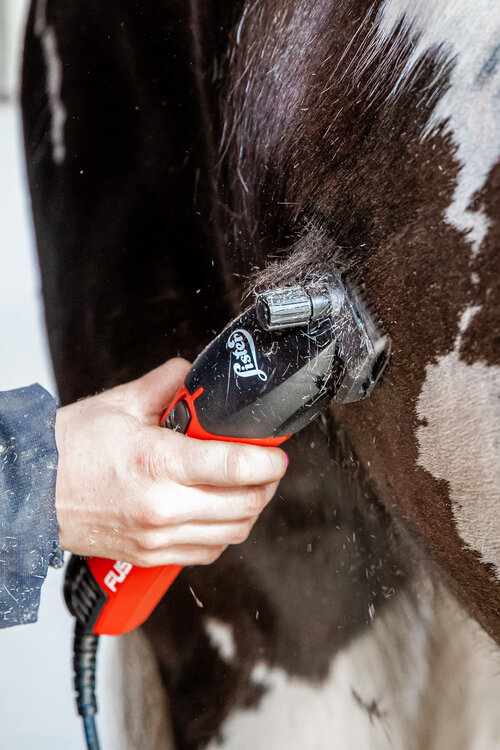 The Lister Fusion Sheep Shear - review 2021
The Lister Fusions sheep shear has now been in the market for a couple of years and it has a huge fan base. if you want a mains shear for a small flock of sheep, or for dagging, this is a great option. It is made right here, in the UK. It has 2 operational speeds, 2500rpm and 2900 rpm. This gives you control. It has a good powered 360 watt motor, but is still light at 1,300g, with a slim barrel - this makes it more comfortable to hold than most shears on the market. It has the usual 5m cable.
The Fusion can also be used for cattle, and if you change the head (this is an optional extra) it can clip a horse and takes the renowned Lister clipper blades.
NEW - Lister Fusion Sheep Shear
Lister launched this high performance shear at the end of 2018. It is a mains sheep shear, and replaces the Lister Laser 2. It is ideal for small flocks of sheep, dagging and belly clipping. It is also suitable for cattle.
It has a slim barrel and weighs only 1300g, making it an easy shear to operate. It has a powerful 360 watt motor and 2 operation speeds - 2500rpm and 2900rpm and is engineered to cut through dense coats effortlessly.
Lister holds the Royal Warrant and all their shears come with a 2 year warranty.

The Fusion comes as a kit with:
Lister Fusion Machine




Countryman 5 comb




Lister Claw cutter




Shearing Oil




Packet of grease




Lister screwdriver




Protective carry case
Look out for our SPECIAL OFFER this shearing season
Lister Fusion Mains Sheep Shear - available in red or blue. On Sale £229.99 https://www.farmcareuk.com/lister-fusion-sheep-shear-in-blue-new-ideal-for-those-with-a-small-flock-of-sheep.html
Comparable mains sheep shears include the popular Heiniger Xtra and the Heiniger Xpert.
See all our mains sheep shears at www.FarmCareUK.com
If you have any questions, please emails sales@farmcareuk.com We are happy to help.