Electric Fence Solar Energisers - now's the time to switch
29 January 2018 | Beth
Switch to a Solar Energiser For Your Electric Fence Today!
Electric fencing has come a long way in the last 5 years. Solar energisers are now reliable, cost effective, user-friendly and environmentally friendly!
To kick start electric fence season we having a sale on our solar energisers until the end of February.
Nobody likes lugging heavy 12 volt batteries around for recharging, in the rain and cold - so why not upgrade to a solar energiser? Solar energiser have a solar panel, energiser and rechargeable battery all in one unit. The solar panel charges the rechargeable battery, that powers your energiser and your fence. Like with a mobile phone, after some time your rechargeable battery will eventually need replacing, which is very easy to do. Replacement batteries cost approx £35.
Solar energisers need to sit facing due south, out of any shade (for obvious reasons!). In the UK, during 3 seasons of the year they get enough sunlight to fully charge your battery and power your electric fence. During the darkest winter months, you will need to keep an eye on your energiser and it may require just a few boosts from the mains to top up the battery. All our solar energisers come with the mains adapters and all the connections you need to attach the energiser to your fence.
Hotline FireDrake electric fence solar energiser range: These energisers are made here, in Devon. They come with a 3 year warranty and can power fences from 1.5km to km - depending on the model you select and the condition and type of fence you have.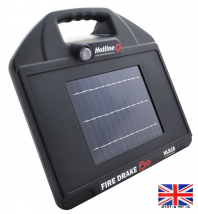 Horizont AS20, AS35 and AS70 Solar Energiser electric fence range: These energisers are made in Germany and come with a 2 year warranty. They can power electric fences from 2km to 8km, depending on the model selected and the type of fence.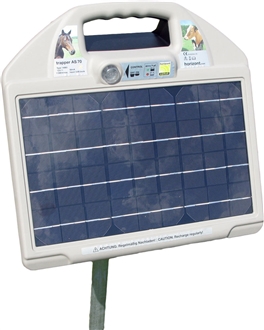 Gallagher energisers: These energisers come with an amazing 7 year warranty (if registered online). The S17 and S20 are for small fences of up to 2km.
Finally, if you already have an energiser and a 12 volt battery, and are not ready to invest in an all-in-one system, we have a solar panel that attaches to your 12 volt battery. It simply sits on top of your battery, facing due south and uses the suns power to recharge. At only £32.99 it's an investment that will make your life much easier!
https://www.farmcareuk.com/12v-solar-panel-10w.html
To see all of our solar panel electric fence energisers, please click HERE
If you have any questions, please don't hesitate to ask. We are always happy to help.
FarmCare UK
Electric Fence Specialists
01323 406212