Budget tight? Try this amazing high power electric fence energiser!
10 March 2022 | Admin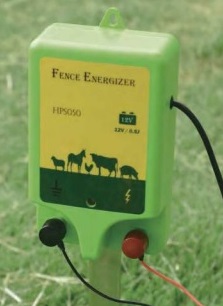 Need a good powerful energiser that does the job and doesn't break the bank?
1 Joule Energiser for £59.99. Amazing!
These days, electric fence energisers can come with a variety of features, with the manufacturers attempting to differentiate their brand and justify increasing costs. However, for many people, all they need to a good powerful energiser that will give a great shock. That's why we have introduced the HP100 1 Joule Energiser. This is what we use for our 50 metre poultry net at home, and it is great (we wouldn't risk our loved hens with an energiser we didn't trust!). It gives a really powerful shock (enough to keep the fox away). We run ours on a 12 volt battery with a solar panel sitting on top. This means we can forget about it for the majority of the year. It is far more powerful than an 'all-in-one' solar energiser and doesn't cost as much.
The HP100 can power an electric fence of up to 5km. It is a 1 Joule energiser, making it have a very good shock level and allowing it to work on animals that can be tricky - such as foxes, horses, cattle and pigs. It comes with a stand that doubles as the earth stake, giving it a nice neat look and making it easy to install. It also has the usual wires to attach to the fence, the earth and the battery. It requires a 12 volt battery of 70 Ah or higher. The light flashes to let you know the energiser is working (we find the flashing light also adds as an extra deterrent for the fox!).
The energiser is reliable and a real workhorse. WE would normally expect this type of energiser to be just over £100...so grab it while stocks last. It's a fantastic deal.
ON SALE ONLY £59.99. To purchase or get more details click HERE!
Add a solar panel for your 12 volt battery for only £36.99. For more details about the solar panel click HERE!